Regional knowledge networking is the key concept to realize the innovation for Next Generation Mobility in Iwate. Through matching activity between needs and seeds, and through cooperating activity between academia, industry, local authorities and financial org., specific Innovation Creators work on defining requirements, matching with existing seeds, creating joint-work scope, and conducting open innovation activity, also cooperating with Miyagi Next Generation Automobile Project. Consequently establish a regional knowledge network for Iwate Innovation for Next Generation Mobility.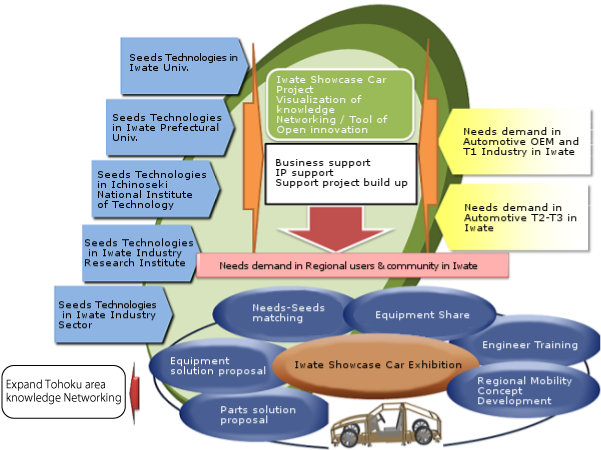 Automotive parts products, samples, seeds technologies, original technologies made by Iwate are all showcased in a vehicle model. Which can visualize whole picture of Iwate existing automotive technology, visualize Iwate on going new technology, and promote communication between customers, engineers, researchers and local authorities and financial org..etc.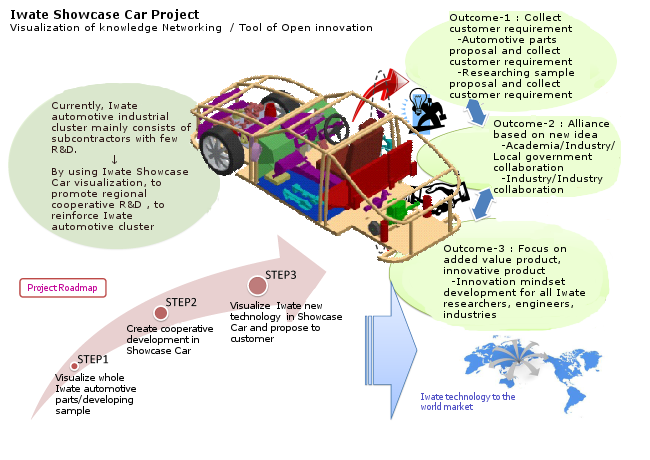 Iwate Industry Promotion Center coordination function, collecting needs from manufacturing department of Iwate automotive OEM and Tier1s., collecting solution seeds from Iwate academia and Iwate research institutes, and managing matching activity between needs and seeds in Iwate automotive manufacturing. Which can promote communication between customers, engineers, researchers and local authorities and financial org..etc.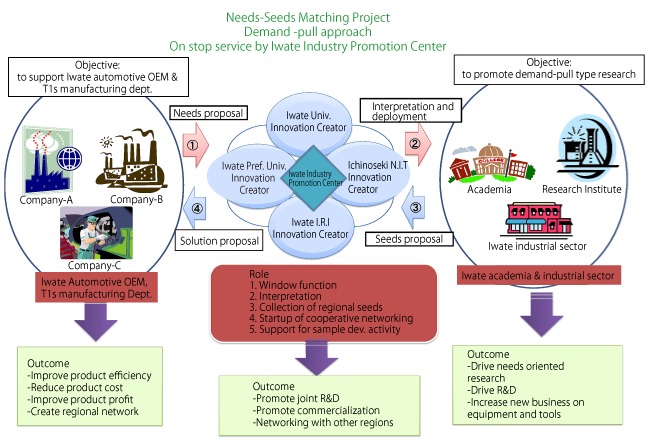 Besides, Iwate univ. conducts original Needs-Seeds matching project "Gan-chan mall"
http://www.iwebcompany-iwate-u.com/

Iwate is the region suffering from high depopulation, high population aging, and great earthquake & tsunami, it means the region shows leading demands of future compact and safe community with population aging, which shows leading demands of barrier-free & secured mobility within the community and between communities. Current automobiles do not play a good role for it. Therefore, we are creating New Iwate Regional Mobility Concept with ICT technologies for regional use, aged drivers' use, disaster prevention, and technologies to connect regional renewable energies. In the next step, by developing and realizing the concept mobility, we are going to promote new research and new business in Iwate.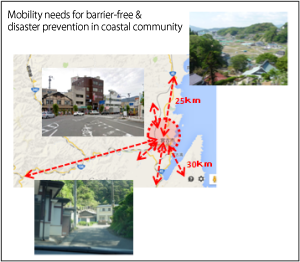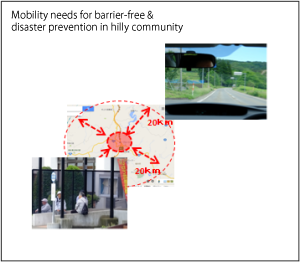 Study on Iwate reginal mobility concept, exploratory research based on local requirements (PDF)


1st Step: Information exchange between Miyagi and Iwate Project. Common participation in both milestone meetings
2nd Step: Common investigation of mobility needs in Miyagi and Iwate regions and communities. Share common research seeds, share engineer development programs.